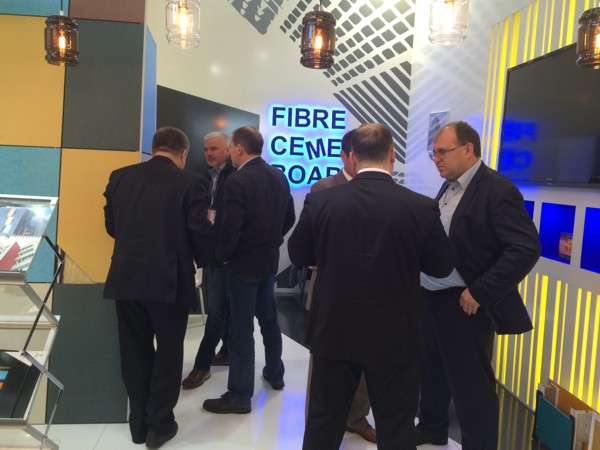 TD LTM, LLC took part in the specialized exhibition FARBE, AUSBAU & FASSADE 2016 held on March 2 - 5, 2016 in Munich. Over the last decade, this event has become a leader in the industry, and is now widely known in the European market. During these four days, more than 500 companies from 20 countries exhibited their products.
TD LTM, LLC presented the complete line of products at its exhibition stand: The Cynop, CemColour, CemColour Structure, Flamma, and Wind Shield panels. In addition, the dedicated staff of TD LTM, LLC successfully presented a new product named Cynop Natura, developed by the company's chief technologist deliberately for the European market.
The attractive exhibition stand became the hallmark of TD LTM, LLC and the center of gathering of partners and potential customers.
Moreover, the exhibition stand of our company was distinguished by its unique style, design, and brightness. The object d'art, simulating a building façade with fiber cement panels was centrally placed which allowed the visitors to visually examine the fastening elements of the panels to the subsystem with multiple options, such as the SIKA adhesive and rivets.
Also, some important negotiations were carried out right at the exhibition stand where some important goals and objectives were discussed and set with foreign dealers of TD LTM, LLC from Finland, Portugal, Poland, and Bulgaria.
During the FARBE, AUSBAU & FASSADE international exhibition 2016, our employees gave a number of presentations, held multiple business meetings and round table talks, which once again confirms the relevance and great interest to our products. More importantly, some engineers, architects, designers, and installation companies expressed their lively interest, as well.
Now we can say that the exhibition was a great success. It is worth noticing that the TD LTM, LLC exhibition stand was extremely popular and attracted the attention of visitors among a variety of different exhibition stands.